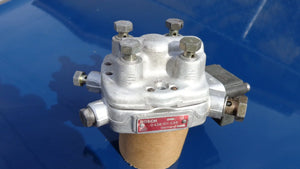 Audi REMAN Fuel Distributor BOSCH 0438101035
Welcome to Fuel Injection Products 
We specialize in Bosch Fuel Injection Systems
Remanufactured 
AUDI

FUEL DISTRIBUTOR
BOSCH 0 438 101 035
EHA ACTUATOR NOT INCLUDED
Fit AUDI 

80        90-91 
100      90-94
Coupe 89 -96
We sell parts by Bosch or vehicle part number. For detailed information about the proper application for your car, contact us, or consult your dealership's spare parts department. 
Warranty

Twelve months unconditional warranty from the date of purchase.
TERMS: 12-Months pro-rated exchange only.
NO RETURNS - NO CASH REFUNDS
ALL TRADEMARKS,  EMBLEMS, AND VEHICLE MODEL NAMES ARE TRADEMARKS OR SERVICE MARKS OF THEIR BRAND NAMES, AFFILIATES, OR LICENSORS. W

E USE THE BRAND NAMES AND PICTURES FOR CLASSIFICATION AND IDENTIFICATION PURPOSES ONLY WITHOUT IMPLYING AFFILIATION OR APPROVAL BY THE VEHICLE OR PARTS MANUFACTURER.
GET IN TOUCH
Email: fuelinjectionproducts@gmail.com
Phone: (323) 456-2189